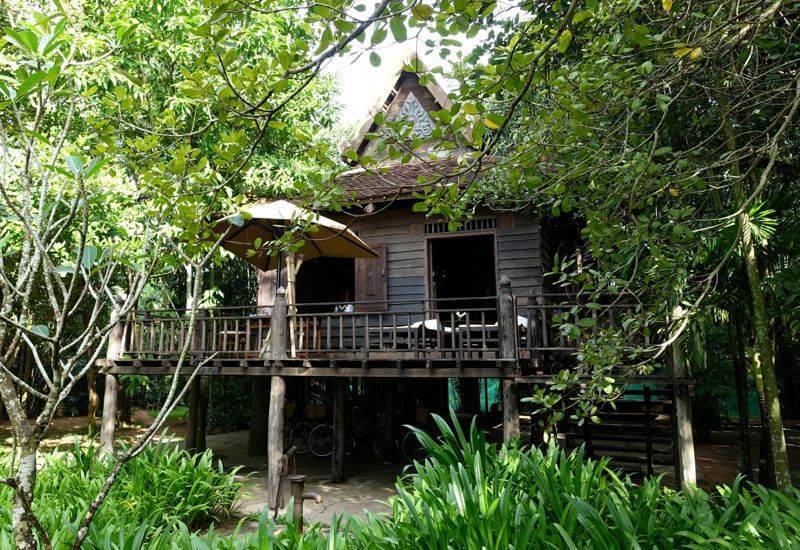 Darren Yaw and his wife's beloved rural Cambodian orphanage
Although Kuala Lumpur is where I was born, where my childhood memories linger in every blade of grass, where my loved ones and I reside, where my favourite Wantan Mee restaurant is, Cambodia feels like home away from home for me. I absolutely love this country. I love the culture, the language, the food, and most of all I love the people. The people are beautiful and kind. They treat every individual as their own and that is amazing to see. That said, Judie and I frequently visited Cambodia–before the pandemic at least–be it for our anniversary celebration or for a holiday trip. One trip however, changed our perspective. That trip was the spark that fuelled our passion to do more for the children in Cambodia. I'll let my wife Judie Yaw tell you more, because she tells it better than I can –Darren Yaw
How it All Started
The first time Darren and I first visited the province of Kampung Thom, Cambodia, several years ago, we were greeted very warmly. The community there was very receptive of our stay. The Cambodians there provided us with their local delicacies and offered us a place to stay at their most comfortable living quarters. Darren and I were very grateful towards the people living there. It was truly a great experience to be in their presence. We stayed there for about 3 days before we decided to take an adventurous trip exploring deeper into the village.
As we explored further into the province, we were struck to find that there lived a community of less than fortunate villagers. It was sad to see these villagers in such a state and in poor living conditions. Electricity barely reached some parts of the village, and the water didn't seem clean. Darren and I were heartbroken to have witnessed this. The country that we loved so much had such a dark unraveling. It almost left me in tears. A little orphan boy came up to us asking us if we had small change to spare and I couldn't take it anymore. For the rest of the trip I couldn't shake off that feeling. Even after we left the village and went back into the city, I could still hear the boy's cry from a distance.
At that moment, Darren and I swore to come back and help these people. We wanted to improve their living conditions. It lit a fire within us and each day that passed by where we were not in Cambodia, the fire grew stronger. Everyone who has worked or has met Darren, knows that he is a very dedicated man. But deep down, he is also very compassionate and selfless. He is devoted to helping the less fortunate in any way he can.
GCG's YawR Home: The Planning
Two months later Darren and I were back in Cambodia, within the rural community of Kampung Thom, where we first saw these children. When we first started thinking about how we were going to help, Darren reached out to local contacts in Cambodia and quickly got a support team in place who were as eager as us to help. They came from diverse backgrounds in business, finance, construction, tech, some Cambodian, some foreign like us, but who had lived and worked in Cambodia for years and loved it as much as we did.
Together, we started actively plotting out what we needed to do. The goal was to build a better home for the orphans. But in order to do this, we realised that basic amenities such as a small community hall, and things like improving the roads, and access to electricity and drinking water would also be needed. There were many meetings and consultations with the village people. Our local Cambodian friends were instrumental in helping us communicate effectively. It needed to be a two-way process whereby it all started with what the villagers actually wanted instead of us outsiders imposing upon them what we thought was needed.
After initial planning, we needed to gather resources to begin building. We needed quite abit of funds, but thanks to our network, it didn't take that long. Enter my close comrades at Greater Calm Group (GCG), our mental health network that we have been a part of for awhile. GCG can mobilise at the drop of a hat. I made one call to GCG Chief and my good friend Charlie Chew, and within a week, we had almost the full amount of what we needed. GCG really came through on the fund-raising. So much so that we decided to honour them by adding GCG to the name of the orphanage as official sponsors.
GCG's Yawr Home: The Process
Construction was underway as soon as all the resources were available. It was difficult, but we managed to coordinate everything between where we lived in Kuala Lumpur and Cambodia. We wouldn't have been able to do this without our strong local support team.
On Day 1 of construction of GCG's YawR Home, we made sure we flew in to help. We had materials transported from the provinces nearby and the nearby townspeople volunteered to help with the construction. Our friends from GCG, and Charlie himself came along. We had gathered a small army consisting of friends, villagers and volunteers. I still remember that first day. I was nervous but excited.
Throughout the months-long process of building GCG YawR Home we got really close with the community. We flew back and forth between Kuala Lumpur and Cambodia, and stayed for about a week at a time. We tried to spend as much time as possible to oversee progress.
It was astounding to see such teamwork and the strong emotional connection that was being built together. We really bonded with the people in Cambodia. We would all gather around to eat lunch and dinner together. The children and young teens would teach Darren and me to play petanque, one of the popular sports brought in by the French when they colonised Cambodia. Darren would often play with the children in the afternoon when construction was slowing down for the day. We don't have children of our own but seeing Darren with these children, happily laughing and playing together, I think I cried a little.
The children were playful and mischievous at times but were sweet at heart. I would occasionally bring them to the town area where I would buy them toys and little snacks to bring back to the village. They would show me around the area and bring me to their favourite hidden spots in the beautiful Cambodian hinterlands. In order to preserve it, I made sure to tell Darren to not disturb their favourite spots.
In about two months, we had completed half of the construction. Darren was very mindful to provide volunteers and the workers of this project with good food, even arranging pizza to be brought in from the nearby town for a small party for them to help increase spirits. Pizza in Cambodia is delicious!
GCG's Yawr Home: Opening Doors.
After four months of hard work from everyone, GCG Yawr Home was finally opening their doors! We had a small launching party with all the villagers and townspeople. Pizza was not on the menu that night though. We wanted this to be a little more special.
We had a feast that was cooked from the new kitchen area of the orphanage. The hall we all gathered together to eat in was built right in the middle of the village as we wanted a strong sense of relationship building amongst the townspeople and the villagers. It was an unforgettable experience. The look on the children's faces when we presented their new home was genuinely heartwarming. I cried as they embraced Darren and me. Even GCG's Chief Charlie teared up. I couldn't hold back my tears as they all cried in gratitude. Darren was no different, I could see him wiping his eyes. Everyone was crying. But at that moment, I could see it–I could see the disconnection in his eyes. He was unsatisfied with the work he gave, a little part of him wanted to give even more. He who had worked tirelessly was displeased with the work he had done for these people.
We stayed for a few more days to help accommodate the children into their new homes. They took to their new accommodation like ducks to water. There was still much to do in the area, like improving the roads even more, and hooking up better electricity generators to the the village for a more stable supply of electricity. We're still working on that part, with the help of our local friends, of course.
This experience inspired us to want to do more in other parts of Cambodia. Darren and I talked about how there were still many areas in Cambodia with the same situation. Though it was hard to leave the village, it was also reassuring to know that we gave what we possibly could to these villagers. When we said our goodbyes, I couldn't help myself from stealing one more hug from these children. As we left the village, I could still hear a distant cry from the children. But unlike before, these were cries of happiness. We can't wait to visit again.
A heartfelt thanks for GCG's unfailing support without which none of this would've been possible.